Private whale watching on a luxury sports cruiser is the ultimate wildlife adventure!  We'll get you to the action faster on our 500 hp, twin-engine, whale-watching vessel, so you get to spend more time with these gentle giants as they frolic in the tranquil waters off the coast of Sydney.
See whales, seals, and dolphins
Expert guidance from your experienced captain
Optional professional photos from a whale watching expert
Click the Tabs to Find out More
Price
$1580 per boat
Professional photographer – $375 (optional)
---
Tour times
9:00 am – 11:30 am

1:30 pm – 4:00 pm
Available from late May till late November
---
---
---
We Provide
Knowledgeable local skipper & guide

Towels & jackets

Bottled water

All safety equipment
---
Please Bring
Warm top/jacket: It is essential to bring a protective jacket and dress warmly because temperatures off the coast of Sydney during Winter and Spring can be cold, and the boat is open-style for the best viewing, but subject to wind and occasional sea spray.
Comfortable shoes: No heels. Please wear soft soles.
---
Your Boat
Our tough, ocean-going Axopar 37′ sports cruiser is sleek and fast, and will get you to the action quicker. The vessel won 2017 European Sports Boat of the Year and is perfectly suited to off-shore waters. The boat seats 8 guests (plus skipper) and is equipped with rain protection, downstairs toilet facilities, and plenty of space for moving about the boat to spot whales and marine life. Find out more about your boat here.
---
Good to Know
Whale spotting guarantee: The whale migration is a natural event and we cannot guarantee a whale sighting on every safari, however, we spot whales over 80% of the time and we will use our best endeavours to ensure that guests see whales and other marine life.  In the event that we do not see any whales, we will provide a 20% discount on any future bookings.
Weather: To ensure guests safety and comfort, we will only run safaris when we deem the conditions to be acceptable, based on winds and swell.  We will advise within 48 hours if the conditions are not suitable, so that we can arrange an alternative date.
---
Hire a professional whale watching photographer (optional)
Make sure you capture these once-in-a-lifetime moments with exceptional photos of the whales and your group. Leave it to our professional whale watching expert and professional photographer, with more than 10 years photographing these gentle giants off Sydney and around the world.
David Jenkins, Photographer
Over the past 24 years, David has run a successful photographic business – Nomad Photography. He has a keen interest in whales, wildlife, and environmental work. This has led to collaborations with the Manly Environment Centre (MEC) and Macquarie Universities Marine Mammal Research Group. He has a website providing the public with information about whale species, conservation, whale watching, and science across Oceania.
Your adventure begins as we make our way towards the entrance of Sydney Harbour and then out past Sydney's famous beaches and rugged cliffs to the whale watching area in deep blue Pacific Ocean waters, just a few kilometres off the Sydney coast. 
We'll get you to the whale grounds in 15 minutes, where our experienced captain will instruct you on how to spot the whales, just like the early whaling boats did for hundreds of years. Be the first on board to shout "thar she blows" and feel the excitement when you spot your first whale or pod. Your captain will then manoeuvre the vessel into the best whale watching position, providing expert commentary, so you feel as close to these magnificent creatures as possible.
You may also get the chance to spot bottle-nosed dolphins or local fur seals off South Head, but the real stars of the show are always the magnificent whales.
---
Between May and August is the 'Northern Migration', when the whales are heading north from Antarctica to their breeding and calving grounds in the warmer waters around the equator. During the 'Northern Migration' you can see grand surface breaches, lob tailing, and chin slaps as the males show-off their dominance to attract females.
By early September the whales are heading back to Antarctica on their 'Southern Migration', when you're more likely to see mothers with newly born calves swimming close to the shore. While baby whales are born with a natural ability to swim, other behaviours are learnt, so you can expect to see baby whales imitating their mothers.
Have a Look at Some of Our Other Options!
---
Sydney Harbour Twilight Cruise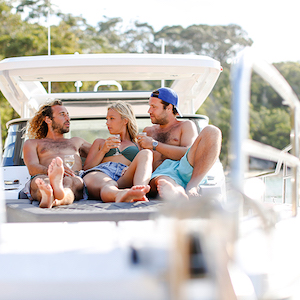 Sydney Harbour Discovery Cruise
Sydney Harbour Lunch Safari