Tony Robbins
World's #1 life coach gets VIP water transfers to and from his 4-day 'Unleash the Power Within' event.
Tom Hanks & Rita Wilson
American Hollywood royalty loving an afternoon out on the harbour with Elodie.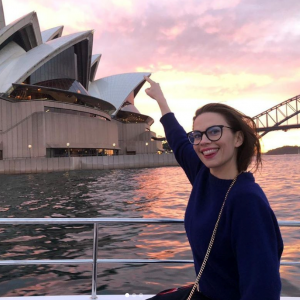 Hayley Atwell
British-American actress Hayley Atwell, aka Marvel's Agent Penny Carter, enjoys our Twilight Champagne Cruise.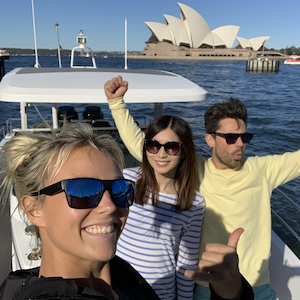 Dominic Cooper & Gemma Chan
Rockin' with some fun British actors: Mamma Mia's Dominic Cooper and Crazy Rich Asians' Gemma Chan.
Rob Brydon
British actor, presenter, funny man and MBE Rob Brydon and family enjoyed an afternoon of swimming, cruising & fish n' chips.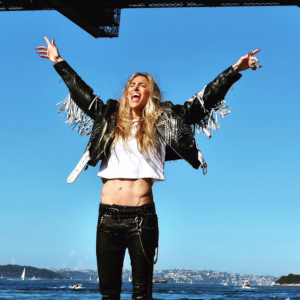 Miss Velvet & The Blue Wolf
American indie funk-rock lead singer Miss Velvet jamming under the harbour bridge while touring Sydney.
Hugo Weaving
Top Aussie actor of Priscilla, Lord of the Rings and the Matrix fame.
Johnny Diesel
Australian musician with six ARIA music awards and two #1 albums.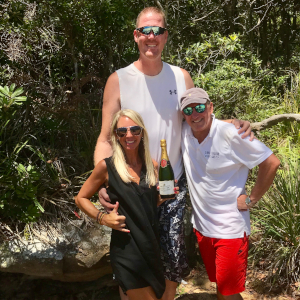 Shawn Bradley
Ex NBA pro basketballer, Shawn Bradley (7'6″) and his wife Annette enjoy a seafood picnic with us on Store Beach.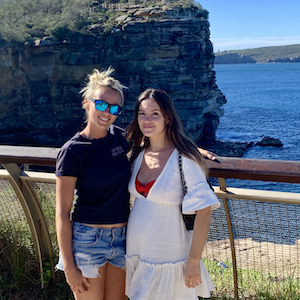 Sarah Kohan
Model, Instagrammer and wife to Mexico's footballing icon, Javier Hernández, Sarah joined our tour and took a stroll to The Gap.
Friederike Franze 
Friederike is one of Germany's most popular travel writers & bloggers.
Mrs Australia Official 
Classic sunset backdrop while filming the TV doco series Behind The Sash, featuring 4 powerful mums.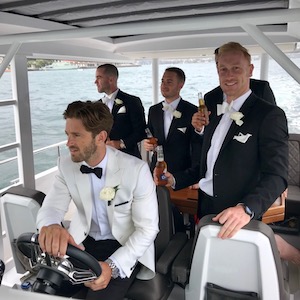 Callum Ward
AFL captain and Greater Western Sydney legend, Cal was an honorary skipper for his wedding day. We love a man in a white tux!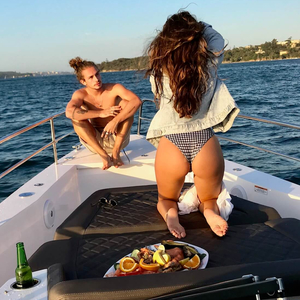 Giaro Giarratana
On the water with Dutch travel blogger and Instagrammer Giaro Giarratana.
Not on board? Contact us!
To find out more about our boats, our tours or to ask any questions, please either fill out the form or contact us via the options below