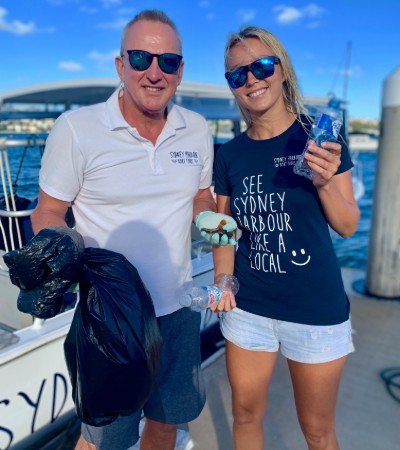 Sydney Harbour Boat Tours has become Sydney's first boat tour operator to be recognised with Eco-Tourism certification(opens in a new tab).
Ecotourism Australia measured a number of factors, including the company's environmental policies and management, its work with the Little Penguin habitat at Sydney Harbour National Park and its partnership with plastic pollution campaigner Take3fortheSea(opens in a new tab).
Sydney has the most densely populated coastline in Australia and one of the world's busiest harbours. According to Sydney Harbour Boat Tours owner Mark Dalgleish, one of the biggest ecological issues facing the harbour is the rubbish generated by having such high numbers of commercial and pleasure craft, combined with periodic high winds, and the many drains and creeks running into the harbour.
"Despite the harbour's beauty we still find plastic bottles & bags, broken glass and boat debris washed onto beaches.  As part of our beach-landing tour, we encourage guests to pick up 3 pieces of rubbish and put them on the boat.  Each year we remove hundreds of kilos of debris, which is doing our bit to help protect the penguins and seals that inhabit the areas we visit and conserve these magnificent waterways." says Dalgleish.
In awarding the certification, Ecotourism Australia commended the company, "… since they operate in marine areas, the protection of the water is important to Sydney Harbour Boat Tours, who minimise negative impacts via recycling and correct waste disposal."
Not on board? Contact us!
To find out more about our boats, our tours or to ask any questions, please either fill out the form or contact us via the options below