AS SEEN ON TV'S SYDNEY WEEKENDER!
Check out these amazing stories about our charters on Channel Seven's popular TV travel program.
News Stories
---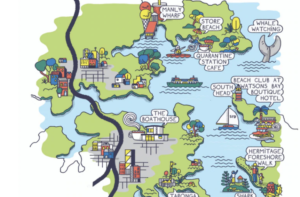 OCTOBER 2020
SUNDAY TELEGRAPH'S GUIDE TO SYDNEY HARBOUR
SHBT founder Mark Dalgleish's recommendations featured in a full page guide, published in Australia's leading Sunday newspaper, the Sunday Telegraph and online via Escape.com.au.
---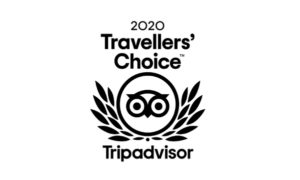 AUGUST 2020
SHBT WINS 2020 TRIPADVISOR TRAVELERS' CHOICE AWARD
SHBT was recognized among the best tour operators in Australia, based on outstanding 2019 traveler reviews, placing us in the top 10% of tourism businesses around the globe.
---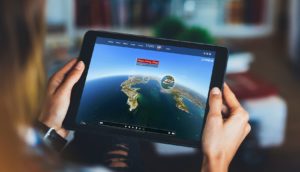 JUNE 2020
SHBT STARS IN NEW SYDNEY VIRTUAL TOUR GUIDE
SHBT's staff and boats feature heavily in a new virtual destination guide, co-funded by the City of Sydney, called Sydney360. The free interactive guide uses 360-degree video footage from air, land, and sea. Click here
---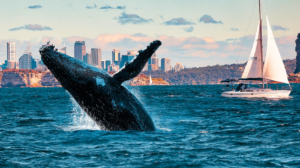 MAY 2020
SHBT LAUNCHES WHALE WATCHING SAFARIS
With over 40,000 humpback whales passing Sydney for 6 months of the year, SHBT has been approved to operate premium whale watching safaris aboard its high-speed sports cruiser Spectre, from June. Safaris are limited to 8 people and can include additional lunch options inside the harbour.
---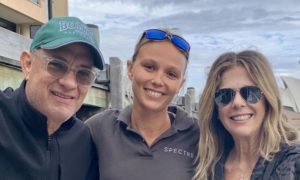 APRIL 2020
SHBT & TOM HANKS CAUGHT IN PANDEMIC
After hosting Tom Hanks & Rita Wilson on a private tour, Sydney Harbour Boat Tours was one of Sydney's first tourism operators caught in the Covid-19 pandemic, which swept the world in March. Our story was featured in the business section of Australia's leading news publication, the Sydney Morning Herald.
---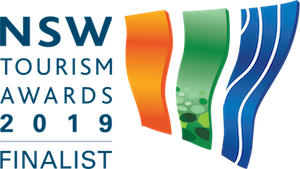 OCTOBER 2019
SHBT A FINALIST AT 2019 NSW TOURISM AWARDS
Sydney Harbour Boat Tours is a finalist for the 'Best Tour Operator' award at the annual NSW Tourism Awards to be held at the Four Seasons on November 14th.
"The NSW Tourism Awards are the most prestigious awards in the tourism industry, with a long history of recognising business excellence, innovation and outstanding customer service" NSW Business Chamber CEO, Stephen Cartwright said.
---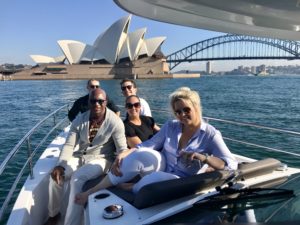 OCTOBER 2019
FAMILS APLENTY IN SPRING
With daylight saving and Sydney's warm Spring weather, SHBT has showcased its products to a range of trade partners in recent months including DNSW and TA staff plus visiting travel agents from the UK, USA, China, Italy, Spain and Switzerland.
The company also hosted famils for several US social media influencers and a number of Sydney-based ITOs.
---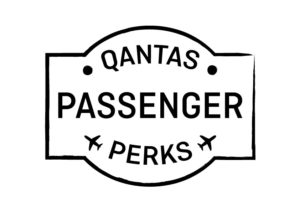 SEPTEMBER 2019
QANTAS PICKS SHBT IN SYDNEY'S TOP 3
Qantas has chosen Sydney Harbour Boat Tours, alongside iconic operators Bridge Climb and Let's Go Surfing as Sydney's best three tourism activities.
They form part of its global Qantas Passenger Perks program, which recommends 'unreal' experiences across Australia and offers special deals for its international passengers.
The campaign will run till June 2020 and be promoted by Qantas via its digital and Frequent Flyer channels.
---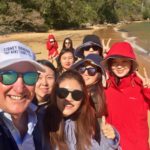 SEPTEMBER 2019
CHINESE AGENTS EXPERIENCE BEACH TOURS
Sydney Harbour Boat Tours attended DNSW's 'Focus on Greater China' in September to present its new products to over 50 travel buyers from China, HK and Taiwan.
"The China market is gradually shifting toward smaller groups and independent travel, so our private beach experiences and sunset cruises have been of great interest to the top end of this market" said Dalgleish.
---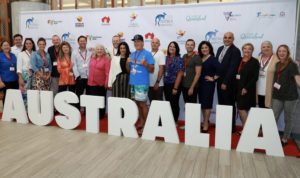 AUGUST 2019
SHBT HITS US AGENTS IN LA
Sydney Harbour Boat Tours attended Marketplace USA in August, where owner Mark Dalgleish presented six new products to over 100 travel wholesalers and Premium Aussie Specialists.
"The response has been fantastic from some of the biggest buyers in the US, particularly for our new mid-market scheduled lunch tour with 3 beach stops, and the luxury private charter experiences to the national parks" said Dalgleish.
---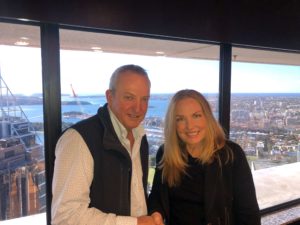 JULY 2019
SHBT PARTNERS WITH 'ULTIMATELY SYDNEY'
SHBT has joined forces with land-based tour specialist Helen Fraser from Ultimately Sydney to create 'Sydney's Best Day Ever' – the quintessential full-day land & sea tour ($433pp).
Helen's 'Story of Sydney' half-day city & suburbs tour kicks off in the morning and drops guests at Campbells Cove in the Rocks, where they join SHBT's 'Secret Sydney Lunch Cruise(opens in a new tab)', for a waterside pub lunch and afternoon of exploring Sydney from the water.
---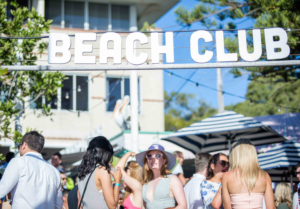 JUNE 2019
NEW LUNCH CRUISE FROM CIRCULAR QUAY
SHBT has added 2 new tours to its award-winning portfolio for the coming season.  The company is launching a new 4 hour afternoon tour with lunch at the Watsons Bay Beach Club, plus guided stops to Quarantine Station and Sydney Harbour National Park beach for $285pp. It will also be operating a 2.5 hour morning tea cruise with 2 stops for $139pp.
All tours will now depart from Campbells Cove Pontoon near the Cruise Ship terminal.
---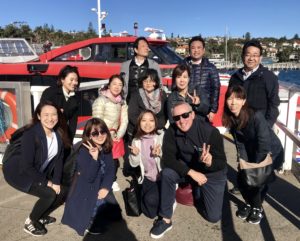 MAY 2019
JAPANESE LOVE WATSONS BAY
SHBT met with over 30 Japanese travel agents at DNSW's 'Focus on Japan' conference at the Maritime Museum in May, then took them to popular local drinking hole and waterside pub, the Watsons Bay Beach Club for lunch and a walk to the Gap.
The Beach Club now features on SHBT's 4 hour afternoon 'Secret Sydney Lunch Cruise' with 3 guided stops and a boat cruise. The Japanese agents commented that their guests love picturesque Watson bay and the opportunity to sample typical Aussie pub food in a lively, local environment.
---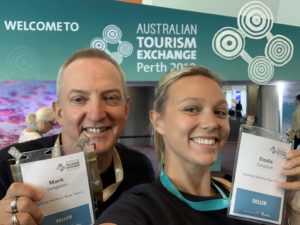 APRIL 2019
SHBT ATTENDS PERTH ATE
Father & daughter team and co-owners of SHBT, Mark & Elodie Dalgleish attended their first ATE (Australian Tourism Exchange) in April, presenting to over 110 travel agents, Inbound Tour Operators and journalists, over a gruelling 4 days at the Perth Convention Centre.
"It's a tough gig, speed-dating so many customers in ten-minute sessions, but it's Tourism Australia's premier trade event of the year and a must for serious tourism operators, plus it's fun to be working with my dad and learning the ropes," said Elodie.
---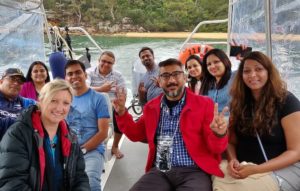 MARCH 2019
SHBT TACKLES THE INDIAN MARKET
SHBT is tapping into the growing Indian travel market by joining forces with DNSW to present to and host over 30 Indian travel agents while visiting Sydney for the DNSW 'Focus on India' conference at Centennial Park.
"The Indian market is experiencing the biggest growth of any of the Eastern markets this year and we need to prepare for the burgeoning growth in middle-class Indian travellers to our shores in coming years". said owner Mark Dalgleish.
---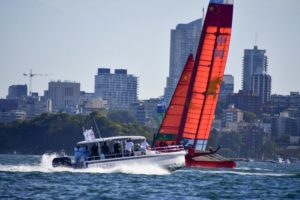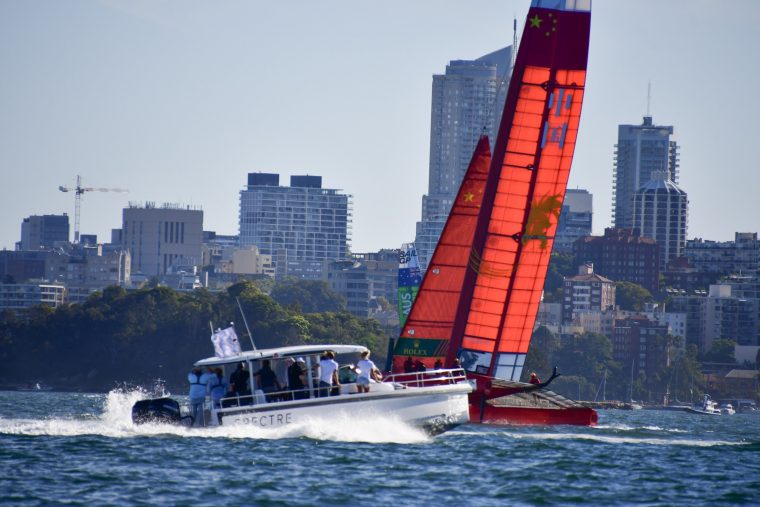 FEBRUARY 2019
'SPECTRE' OFFICIAL CHASER BOAT FOR ORACLE
SHBT's flagship cruiser SPECTRE has been chosen as Oracle's official guest chaser boat for the inaugural SailGP yacht race, launching on Sydney Harbour on the 15th & 16th February 2019.
SailGP brings a new high speed, high tech dimension to sailing; designed for grand prix racing at iconic locations across the globe. An international league of six national teams from Australia, Great Britain, United States, France, China and Japan will race identical supercharged foiling F50 catamarans, capable of breaking the 50-knot barrier (nearly 100 kph).
---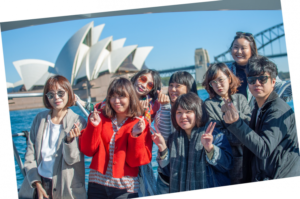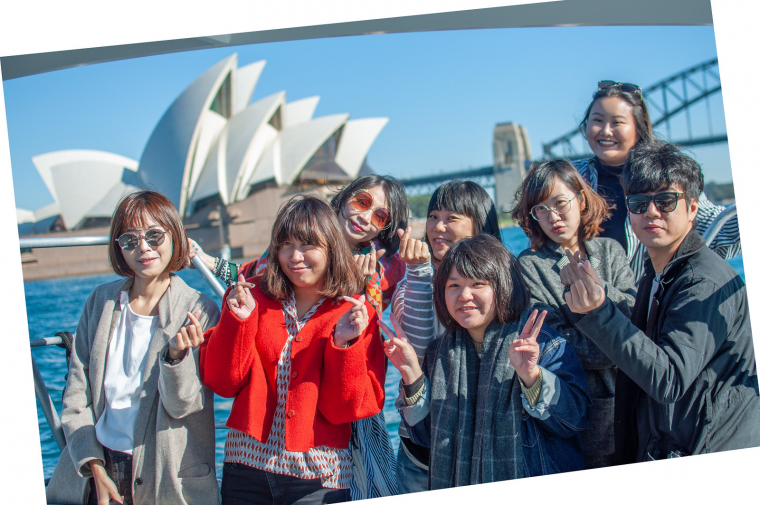 FEBRUARY 2019
MILLIONAIRE TOUR FOR CHINESE NEW YEAR
SHBT, in partnership with leading Chinese ITO, Equity Travel is providing over 500 Chinese visitors with a unique, personalised harbour experience over Chinese New Year.
According to co-founder, Elodie Dalgleish, "Our Chinese guests are looking for new experiences on the water and have a deep fascination of where Sydney's 'rich & famous' live and play". Cheryl Zhong, Director of Equity Travel, commented: "We are thrilled to see today's Chinese travellers enjoy cruising Sydney Harbour from such an intimate angle brought out by Sydney Harbour Boat Tours."
---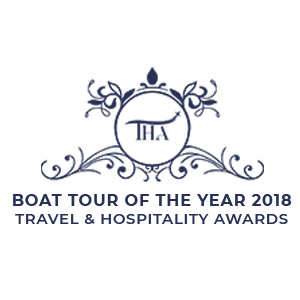 JANUARY 2019
SHBT WINS 2019 'BOAT TOUR OF THE YEAR'
For the second year running, SBHT's flagship harbour experience 'Icons, Bays & Beaches' has won the international Travel & Hospitality Awards' Boat Tour of the Year for the Oceania region.
Judges for the prestigious award examined online reviews & feedback, local and industry knowledge, marketing & diversity. "Once again we're delighted to be recognised by our peers in the global travel and hospitality industry," said owner Mark Dalgleish.
Not on board? Contact us!
To find out more about our boats, our tours or to ask any questions, please either fill out the form or contact us via the options below