Spectre Named Official Chaser Boat For Oracle, At Inaugural Sailgp Grand Prix Yacht Series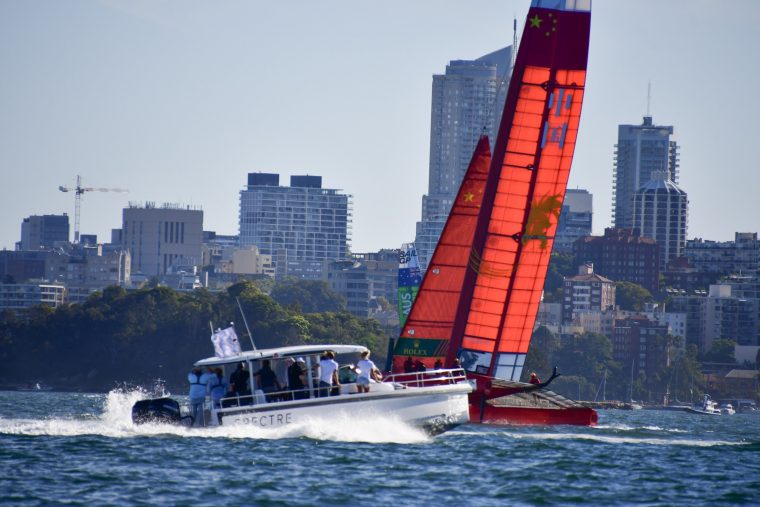 Sydney Harbour Boat Tours is proud to announce its flagship sports cruiser SPECTRE has been chosen as Oracle's official guest chaser boat for the inaugural SailGP yacht race, launching on Sydney Harbour on the 15th & 16th February 2019.
SailGP brings a new high speed, high tech dimension to sailing; designed for fan-centric grand prix racing at iconic locations across the globe.  An international league of six national teams from Australia, Great Britain, United States, France, China and Japan will race identical supercharged foiling F50 catamarans, capable of breaking the 50-knot barrier (nearly 100 kph).
The international series is funded by Larry Ellison, sailing enthusiast and billionaire co-founder of US computing company Oracle. SPECTRE will be used throughout the Sydney series to give Oracle's VVIP guests exclusive ring-side seats, operating from the Royal Sydney Yacht Squadron and superyacht OneWorld.
"It's testament to SPECTRE's sporting pedigree", says Sydney Harbour Boat Tours' co-founder & skipper Elodie Dalgleish, "SPECTRE is the only Axopar in charter in Australia and that combination of elegance and sheer power make her the perfect boat to follow these amazing F50 catamarans at high speed and close quarters."
About SPECTRE
SPECTRE is available for private charter with Sydney Harbour Boat Tours.
Built in 2017, this 37' twin engine Axopar can cruise at 40 knots and seats up to 10 guests with a downstairs cabin & bathroom, sunroof, fridge, sunl ounge, swim platform and dining table. The boat won 2017 European Motor Boat of the Year.
For further details contact Mark Dalgleish:
mark@sydneyharbourboattours.com
+61 418 196 160
www.sydneyharbourboattours.com